Friday, March 31, 2006
I take it all back
Wednesday, March 29, 2006
The Red Bike Diaries: Episode IX
Saturday, March 25, 2006
More Adventures With Smiley Cup
Smiley Cup in...
Smiley Cup
Goes To Work
(Song for this story:"A Day In The Life" by the Beatles)
One day, Smiley Cup asked gC if he could go to work with him. "Sure!" gC said and the 2 got ready for work. When they were ready to go, Smiley Cup got gC's keys and the 2 headed out to leave...
Apparently, it had gotten pretty cold out the night before. Once outside, gC and Smiley Cup saw that the windows on gC's car Kharma were covered in frost! Smiley Cup volunteered to help scrape the windows. gC was very happy for the help...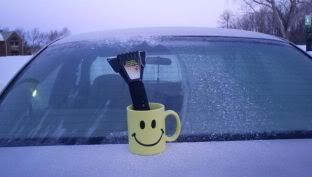 Soon after clearing off the windows, gC and Smiley Cup headed out of town. Smiley Cup was excited! He hadn't been to 'work' before...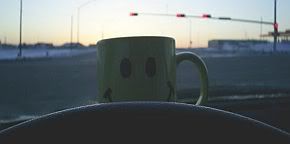 After leaving The City Limits, gC and Smiley Cup headed on down The Interstate towards Work. Smiley Cup was still excited, because it had been a long time since he was on a Road Trip on The Interstate. And he was going to Work too, which he still found exciting...
But what gC knew and Smiley Cup didn't know was that the trip to Work was a long one! Every day, it took a whole hour to get from Home to Work. gC had long since gotten used to it. But since it was Smiley Cup's first time going to Work, he had a hard time not dozing off while gC drove. After a while, Smiley Cup could no longer stay awake and he fell asleep...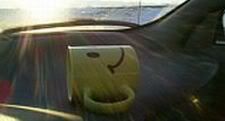 And it was probably a good thing that Smiley Cup fell asleep on the way to Work; mostly because once they got closer to Work, The Interstate traffic started to get busier and busier due to Rush Hour Traffic Conditions. Smiley Cup might have been a bit nervous if he saw how much traffic there was on The Interstate at Rush Hour. But Smiley Cup was asleep and he didn't see any of it...
Once gC arrived at work -and woke up Smiley Cup- they went in and started to get things ready for their busy day...
While gC turned on the lights and other machines -gC is almost always the first one in to his Work- Smiley Cup helped out by turning on one of the department computers and logging into the network for gC...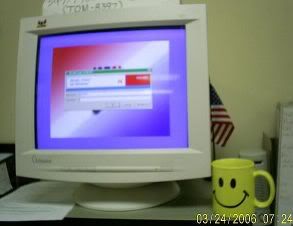 Once all the machines and so forth were on and ready to run, gC introduced Smiley Cup to Work Cup, gC's cup that he uses for coffee or water at Work. Smiley Cup was impressed with Work Cup because he was so big and obviously had been a Cup of gC's for some time...
Next, gC took Work Cup and Smiley Cup up to the Break Room to get some coffee. When they all got there, they saw that the coffee was almost all gone. (Well, the Regular Coffee was, at least...) So, since Smiley Cup wanted to make a good impression on Work Cup, he made coffee...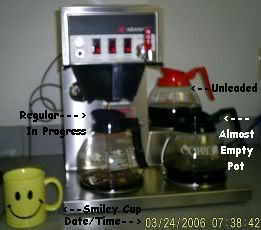 After that, they all went back down to gC's Department. Once there, gC showed Smiley Cup how to run the Mail Inserter Machine that he operates. gC calls it Hagar because... Well... He calls the other Mail Inserter Machine Bertha and Hagar sounded like a good name for a 'mate' to Bertha. (Bertha is an Older Mail Inserter Machine and can be a bit cranky at times...) The first of these next 2 pics is Smiley Cup running Mail and Inserts through Hagar. The second pic is of Smiley Cup gathering up the inserted and metered mail at the end of Hagar's line...
gC and SmileyCup continued working until Morning Break Time, when gC had to run an errand...
After Morning Break Time, gC and Smiley Cup got back to work and worked until Lunch Time. At Lunch Time, gC worked on 'The Red Bicycle' Project. The Project is coming along very well. In fact, gC managed to finish stitching another color and decided to take an update picture. Smiley Cup thought it would be cute if he played the part of the 'sun' on the Project. Smiley Cup can be so silly sometimes...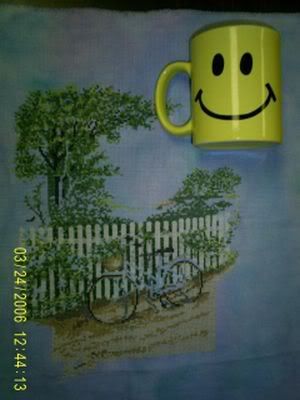 After taking the update pic and finishing his Lunch Time, gC went back to work until it was Afternoon Break Time. Since Smiley Cup had been so helpful all day long, gC decided to take him with him when he went out to get a cup of coffee. This would be a special treat for Smiley Cup, because gC was taking him to the Scooter's Coffee Shop near his Work. Here is what Smiley Cup saw when they both got to Scooters:
"Wow!" thought Smiley Cup. "A REAL coffee shop! And so close to Work too. This is pretty neat." And not only did Smiley Cup get to go to Scooter's, but he made some new friends too. He meet the barista who made gC's latte' -gC likes a good latte' in the afternoon- as well as 2 Scooter's Cups! Smiley Cup was really thrilled to meet the Scooter's Cups and asked gC to take the following picture so that he could remember the event: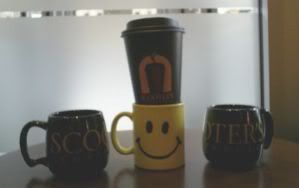 After all that excitement, Smiley Cup was ready to go back to Work and finish the rest of the work of the day. He could hardly wait to get back Home and tell Grape (make this a link to Grape pic) about all of his adventures of the day. Smiley Cup thought that Work was kind of fun; what with making coffee, running Hagar, and going to Scooter's. (Smiley Cup really liked going to Scooter's!)
After Work, gC and Smiley Cup closed things up at gC's Work and headed out of town. Smiley Cup was still a little bit bubbly from his day, so he didn't notice the drive Home as much as he did the drive to Work...
About half way Home, gC pulled off of The Interstate into a Truck Stop. Smiley Cup was a bit at a loss...
"Why do we need to stop here?" Smiley Cup wondered. Well, gC knew why. Kharma's gas tank was almost empty and he wanted to fill it up before it got much emptier. gC got out and started to fill Kharma's tank. After a while Smiley Cup became impatient at how long it was taking, so he got out and went to try and help gC. Needless to say, Smiley Cup was a little bit surprised to see what was displayed on the Gas Pump...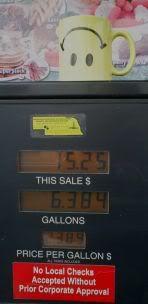 "Oh my goodness!" thought Smiley Cup. "Do you ALWAYS pay that much for gas, gC?"
"Unfortunately, yes. Every 2 to 3 days, depending on how much extra driving I do" gC said. Thankfully, I have a Car Pool Friend who helps me out by driving every other day. That saves me money and gives Kharma a break too. "
"Wow!" Smiley Cup said in awe. "Car Pool Friend is a really nice person."
"You said it, Smiley Cup!" gC agreed...
Once Kharma was all gassed up, gC and Smiley Cup headed back out onto The Interstate. After a while, Smiley Cup fell asleep again, with a big smile on his face...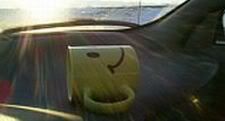 Back at Home, Smiley Cup filled Grape in on His Great Adventure At Work. Grape was impressed. Smiley Cup fairly beamed! It was another good day for Smiley Cup...
The End.
Thanks for reading this latest story. Stay tuned for More Adventures With Smiley Cup!

(Thanks MUCHES BUNCHES to Kim for helping me get this post FINALLY ready to be posted!!!)

Wednesday, March 22, 2006
I'm SOOOOO Confused...!?!
Friday, March 17, 2006
The Red Bike Diaries: Episode VIII
Tuesday, March 14, 2006
Let me try this one more time...
Sunday, March 12, 2006
Is it Friday yet?!?
Thursday, March 09, 2006
Breaking Up Is Hard To Do
Wednesday, March 08, 2006
This calls for a toast