Wednesday, March 29, 2006
The Red Bike Diaries: Episode IX
Updates, Updates, Updates...
Hello again! Thanks for looking at my story. I hope you liked it...
And now, on to the Updates... (All 3 of them!)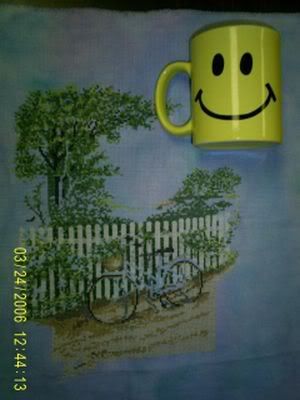 You might recognize this one from from my Story. It is about a week old, but it shows that more of the green is in. Oh, and it gave Smiley Cup a chance to be a little bit of Sunshine...
This one is a couple of days newer. It shows that even more of the green was completed. In fact, the last of the green was done at this point. Thank Goodness and the Fates and everyone else too...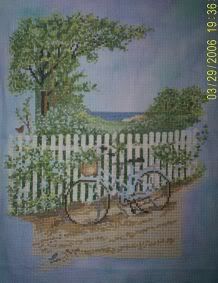 This one is the most recent. (Tonight, in fact...) It shows that I have moved on to the 'sea' and the little blue bird too. It feels VERY nice to be stitching something besides green. That and the fact that I am down to the last 9 colors that need to be stitched in... Well, suffice it to say that I am probably going to get this thing finished a bit sooner than I was starting to think I was. (It kind of helps that I didn't put in the 'sky' as per the pattern also...)

Let's see... What else? Well, most of the snow from last week is pretty much gone. In fact, it was almost 70 degrees F here today. Oh yeah! Spring is on its way... FINALLY!!! (Of course, we might get rained on this weekend. But I will take rain over snow ANY day!)

That pretty much sums up things on this side of the computer for now. I hope everyone is doing well and I will (try deligently to) post again soon!

Comments:
"spring is on its way" lol lol lol lol lol ...
It's all turning out great! Kim's fabric sure is precious, avoiding stitching all that blue... although that would have been a change from green... Are you sure you don't want to stitch the sky?!
Oh, btw, looks like Kim is having problems stitching a bike. May be you could help? lol
I'm evil... What will your next project be?
Post a Comment
<< Home