Monday, January 30, 2006
The Red Bike Diaries: Episode IV
Even more dirt under The Red Bicycle...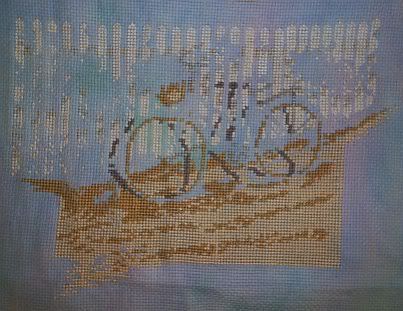 (I think that I am going to need my wheels trued when I am done...)


Welcome back to my blog! (2 posts in one day... cool!)
Okay, above I have the most recent progress pic of The Red Bicycle. I have completed the second color of the 'dirt' on the bottom half of the pattern. As Kim said earlier as I was proofing the preliminary pics, you can really see more and more of the design the further along I get. So far so good, eh? ;-)
The next color will be a darker
gold
. The darker color of the 'dirt' is a blending of a light brown and a light gold, so that may or may not give you an idea as to the color. Can't wait...
Kim made another interesting comment: why do you stitch just one color at a time? Well, I don't always plan to. But it just seems to happen more often than not. In this case, the color that was at the center of the design -I always start a project in the middle- just happened to be the last color on the list. Once I finished that one, I just continued to move up the line of colors until I got to where I am now. Pretty simple and straitforward. That and -unless the pattern makes it too difficult- I like to finish all of the stitches of one color before moving on to the next one. Kind of my way of keeping track of where I am on a project. Maybe a bit strange, but hey it works for me. ;-)
Nothing really to say in regards to biking stuff tonight. As nice as it was this weekend, it was a cold one today. (And I was just feeling lazy too so...) Hard to say when next I will be talking biking stuff. Stay tuned and see what happens when.
Alrightythen! Time to pack it in for today and get this post posted. (I think there is the name of a breakfast cereal in there somewhere...) Chat with you all later and have a good time until the next time!
An Early Morning Post
I've had it! (Not breakfast yet, but working on it...)

I went out for a ride yesterday -weather chilly and windy but sunny- and thought I would take the cheapy cam with me and take some pics along the way. Seemed like a good idea at the time at least. Anyway, I get out on my ride and am make fairly good progress down the trail. At an overpass I decide to stop and take a picture. Take out the cam, and it beeps a low battery warning at me. Well (deleted)! :-( Oh well... That is the thing about taking pictures on a bike trail: the things you take pictures of are more or less always in the same place. I should be able to get more pictures at a later time...

In "Red Bike Diary" news: I am proceeding slowly but surely. I am almost done with the second color of the ground and should have that done by Wednesday, if not tomorrow. Hopefully, I will be able to take some update pics with the good camera and post them soon.

Well, I better get going for my busy day. Everybody have a good day and I will post at you later!



Wednesday, January 25, 2006
The Red Bike Diaries: Episode III

I must apologize for not posting sooner. I am afraid that I haven't been in much of a blogging frame of mind lately. This past weekend the weather was really nice, but I didn't feel like doing much of anything other than the errands that Kim and I did. Monday was... well... Monday. (Beginning of the work week, stuff like that...) Yesterday I had a sore foot from something or the other that I did Monday (I think) and yesternight Kim and I went out for tacos and a few $2.00 margaritas. (My foot felt pretty good after that!) Today at work wasn't too bad and my foot felt even better so I figured it was time that I said something on the blog. And here I am...

Anyway... During my less than active period this last week or so, I managed to finish the first color in the ground of The Red Bicycle. It took a lot less time than I thought it would. I think that I may have slightly overestimated my completion time on this project. May -my original estimated completion time- seems like a long way off, but it may not take me that long at all. Hard to say right now. And then again, I may be overthinking things a wee bit too so... (I have a habit of overthinking things when I take time to think.)

(Kim and I are watching "Lost" as I type this post, so bear with me if I wander more than a little bit...)

I am really liking how this project is coming along. It is really starting to take shape and I can't wait until I start on the top half. Still trying to decide if I am going to stitch the 'sky' part of this pattern. Hard to say for sure, since the color of the 'sky' at that point of the fabric looks like... well... the fabric at that point. You can kind of see my quandry there... Oh well... I will figure it out when I get there. (Need to plan ahead j
ust a little less bit...)


Saturday, January 14, 2006
The Red Bike Diaries, Episode II:
Stitching in the dirt...
Okay, so the pic at left isn't "The Red Bicycle". But when I took Grape -my recumbent- out for it's first ride of the year this afternoon, and saw this fence... Well, I
just had to take a picture of it. It seemed like a good tie in for this bunch of bloggingness. (More on the ride later.)
Anyway... at right is a progress pic of The Red Bicycle. Things have been a bit (there's an understatement!) busy at
work this week. As a result, I have not been as proliferic with my stitching as I have been in the last couple of weeks. The good side of that is the fact that I am getting things done with my project. Not much,
but some...

I have begun to stitch the 'ground' part of the pattern (hence the 'dirt' in the title) and I have more or less settled into the knowledge that the longest and possibly the most drawn
out part of this project is underway. I am estimating that it will take almost a month -at my current speed of stitching- to finish this part. Of course, I could be wrong. ;-) (It has
happend once or twice, believe me...)

Kim hasn't been feeling very well lately, so she has been able to get a lot done on her projects. You should wander over there and t
ake a look at it. A little bit of 'Hi, how are you?' at her blog might help cheer her up and make her feel better. ;-)



And now, a little more talk about my ride this afternoon.

First off, Kim and I got up kind of late this morning. Stayed up a little too late last night, I am afraid. (Why are all the

good

shows on so late at night?!?) Kim needed to get some fabric to finish her Peter's Cotton Knits project, so once we got up and going we made a run to Jo Anne's for fabric. Fortunately for us, the cold weather that we have been having here has decided to let up a bit. The sunny skies helped to perk up our spirits so we could get our runs done. (See also the blue sky in the pic at left.) The only thing we noticed, was that it was a bit windy. (See also again, the pic at left) Oh well, it would still be a good day for a bike ride.

Okay, we did our runs and I got ready to ride. As I have said, I haven't had Grape out for a while and needed to do some preliminaries before I got started. Again, no big deal. Air up tires, get water bottles ready, make sure all the other things are in their proper places... No problem. Took the bike and soforth outside and got ready to go. Did I mention that it was still a bit chilly out? Well, I will just wear a jacket over my T-shirt and shorts and I will be alright. Again, no problem.
The MoPacEast Trail is -almost literally- right out our back door. (About 3 blocks away.) Once I got heading down the trail, I saw the following things
: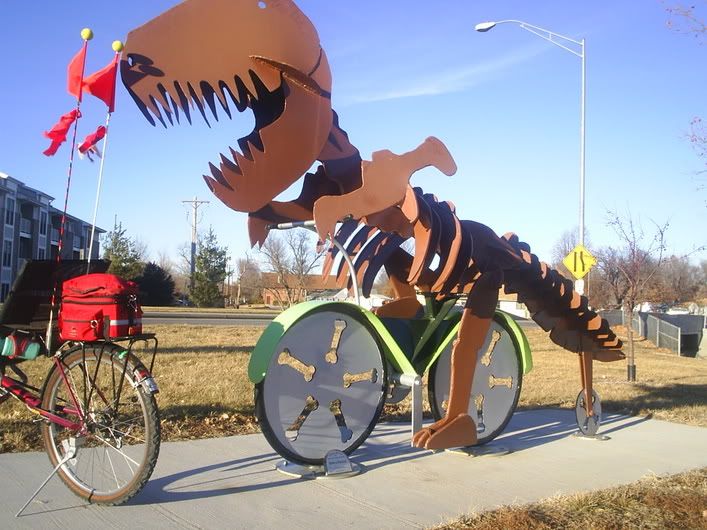 A Dinosaur, a train engine, and then finally the crushed limestone of the trail.

The first pics are 2 of many of the Tour de Lincoln sculptures that were commissioned a couple of years ago. There are more in town, but I was only able to take pictures of these so far. (I plan on posting more pics when I get them...) They are pretty neat, ranging from the 2 above to eyeglasses, to flowers. I think most of them have been taken to the homes of those who helped sponsored them, or they are in private galleries. Not really sure though...

The MoPac East trail heads quite a ways out of town. I personally have only been as far as a little berg known as Walton. Not much bigger than the name is there, but big enough to have a grain storage bin and a nice little trail side bike shop. It is part bike shop, part rest stop along the trail.

From there, I decided to get off of the trail for a bit and headed out onto the road. I had been noticing a rattling noise in my front rack, so I decided to stop at this nice fenced in area -see picture at the beginning of this post- and see what the rattle was all about. Upon closer inspection of the rack, I discovered that I had somehow managed to loose one of the bolts holding on the front rack. Eeek! (Good thing I have lots of spares at home...) Needless to say, that called an end to the ride. Bummer. I was wanting to ride more but... Oh well... So I turned around and not so quietly rode back home. (The rattle didn't get much better until after I was home.) I can say that I managed to get in a grand total of almost 14 miles today. Nothing great by my old standards, but at least I was out and riding.

Of course, now that it is no longer today but rather tomorrow (oh my...) I better sign off. I will be needing to sleep so that I can do some work related stuff tomorrow, I mean today, and I am going to need all my faculties to do it.

And on that note... Happy stitchy, happy riding, and most importantly, thanks for letting me ramble all that stuff out at you!

Sleep well... Or whatever else it is you need to do today... ;-)




Friday, January 06, 2006
I Still Got It!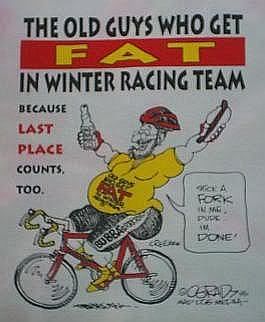 I may not have as much as I used to, and I may have a little more than I did in some places, but I STILL GOT IT! ;-)

Okay, okay, enough self agrandisement. What I still have, in varying quantities, is the ability (if you will) to go out for a bike ride! Okay, so that may not be as interesting to some as it may be to others -or me- but it is something that I have personally been..
. doubting... for a while now. Not that I felt as though I have forgotten how to ride a bike. That is silly because getting back a bike and riding is like... well... riding a bike. (Cliche' I know, but that is all I could think of.) Methinks that I meant more that I have slightly 'forgotten' why I started bike riding in the first place. (Read that as "for fun". Thanks for the words, Kim.)

What started this line of talking, thinking, whatever, was my annual "The sun is out! I must plan a BIG BIKE RIDE for later this year!!" (You can ask Kim. It isn't a pretty sight...)

Anyway... This year -or was it last year? these years all seem the same any more- my 'inspiration' for The Big Bike Ride was finding out that my mother was diagnosed with Multiple Sclerosis. I'll let the link at left explain all the particulars about the disease, but suffice it to say that I was a bit freaked out. Also, the MS150 Bike Tour was one of the first -and most eventful, I might add- biking events that I had participated in. Needless to say, I have some history with them.

Okay... I'm rambling... Deep breath... Okay, all better.

Anyway again, this year I decided that I would do the MS 150 Bike Tour for my Big Bike Ride. Had it all figured out too. Ride to the event start, camp out the night before the event, do the event, camp out again, and ride home. Oh, and raise funds ($200 US) to help fight MS. No problem, right? Well... Not exactly. First off, the ride is about 30 miles from where I live; about 60 miles round trip. That, and the 100 miles I was planning on riding over the 2 days of the event... Let's just say that -at my current level of
'fitness'- it is an ambitious goal. (What can I say, I am in incurable optimist...) AND I have never been very good at the 'beg and plead' for donations. Looking bad here... That's not to say that I couldn't do the 1 day event. In fact, that is probably what I will be doing...

But, I digress. (Gee, ya think?!?) Anyway, the riding thing. I have been riding a bicycle in one capacity or another for 20+ years. Does quick math... That means that I was... about 2 when I started riding. ;-p Okay, maybe a bit older than that, but you get the idea. ;-) About 10 years ago, I got all hot and heavy (er, sotospeak) about doing long miled group rides. Suffice to say, that the crowd that I was at the time 'brainwashed' me into being an over the top bike riding guy. I still have withdrawl symptoms. (See earlier in this post...)

The thing that I think I have FINALLY come to realise is that I NEED to get back to that 'ride for fun, riding is fun' thing that I used to know so well. And then use the 'organized' rides to get to know other biker types. Hopefully to be friendly, not indoctrinated into 'over the top bikerness'...
sotospeak... That is the plan at least. I'm not saying that it will be easy, but I am at the very least wanting to try and try. And then try again?!? lol

Okay, enough biking stuff for now. How about a little stitching type stuff? Since Anneke was so kind to comment on
my last post, I thought that the least that I could do was make a post and comment on her comment. ...um...yeah...sometinglikethat...

Anyway... She was curious as to what The Red Bicycle project will look like when it is done. My Prologue pic wasn't really big enough to get a good idea of what it looked like. Well, for your viewing pleasure, here is a pic of what the finished project will look like, per the manufacturer:


As you can see, the fence in the previous post pic is about 1/3 of the completed project. Also, per a comment from Lili, the completed size will be about 25cm (10") W x 36cm (14") H. Granted, that is an approximation. No telling what is going to happen while I am working on it... ;-) Just kidding. The only thing that will be different from this pic is that I am doing it on a different colored fabric. Oh, and I plan on 'signing' it with a stitched version of my actual signature. You know, like when you sign your name on a check or at the end of a letter? Yeah, somethinlikethat. I have a feeling that it will be the hardest part of the whole project. But then again, I could be wrong...

Whoa! I typed up a lot of stuff there. Methinks that I must have needed a bit of cartharsis or something. But most likely, I just like to talk once I get started. (And I ramble... Did I mention that?!?)

Final anyway, I better let you all go for now. I am loosing blogging cohesiveness so it will be for the best. ;-) You all have a good day/evening/whatever and I will blog again later!


Tuesday, January 03, 2006
The Red Bike Diaries: Episode I
The longest journey begins with but a single stitch...




Er, step...


Oh, nevermind...


(My apologies to whomsover first made that quote.)





And now, the moment you have all been waiting for!!

Well... maybe not all of you, but...

Okay, no more fanfare...



ANYway... I have finally gotten around to starting on The Red Bicycle. Last Thursday at about 3:30 p.m. CST, to be exact. And as you can see in the followng picture, I have made pretty good progress: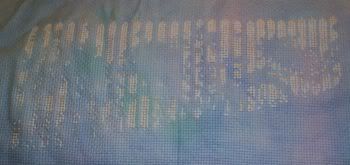 FYI stuff: the image shown is approximately 8 1/2" (21.5cm) W x 3 1/2" (9cm) H and is stitched on 14 count Aida fabric hand-dyed by Kim


Things have been going fairly well with the stitching too. I have, however, made one small change: the fence color was originally a 'light blue grey'. My guess is that it was the kit maker's attempt to make a "white picket fence" color on white fabric. But since I am doing this project on a blue background, I decided to go with REAL white for my picket fence. As you can see, white works best when stitching white. ;-)

As you might have guessed, I haven't been doing much stitching since going back to work today. Oh well... It will give me something to do for the rest of the month.

In other news: well... let me see...Kim and I had a good holidaze week off. We spent some good quality time with Kim's folks. We took my father out for lunch/dinner for his 'christmas gift'. He also loved the fat santa we gave him full of quarters and dollar bills that he could use for the coffee machines at his work. We got the decorations all put away; although we did have 3 casualties: some of the chicken things we had stashed away didn't make it out of storage in one piece. :-( Kim had a very good birthday yesterday. Did you all go over and wish her a happy birthday yet? Oh, and (Kim don't look!) our car turned over 100,000 miles this morning on the way into work! Yet another milestone -literally!- for our good little Saturn. (If you need a good and reliable car, Saturns are a really good bet.)

Let's see... Anything else? Not really. Although as sort of as an aside: I am planning on doing a charity fund raiser bike ride for the Multiple Sclerosis Society later this year and maybe volunteering for another too. Hard to say for sure yet, but it is in the plans. More on that later, when I have more time to tell tales. And you can ask Kim: I LOVE to talk about stuff that I like. Like Kim... :-X

Okay, I better end this post before I turn into a pumpkin... or some other gourd or melon. ;-p Chat with you all later if not sooner and Happy Stitchy!!!