Tuesday, January 03, 2006
The Red Bike Diaries: Episode I
The longest journey begins with but a single stitch...




Er, step...


Oh, nevermind...


(My apologies to whomsover first made that quote.)





And now, the moment you have all been waiting for!!

Well... maybe not all of you, but...

Okay, no more fanfare...



ANYway... I have finally gotten around to starting on The Red Bicycle. Last Thursday at about 3:30 p.m. CST, to be exact. And as you can see in the followng picture, I have made pretty good progress: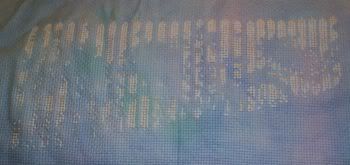 FYI stuff: the image shown is approximately 8 1/2" (21.5cm) W x 3 1/2" (9cm) H and is stitched on 14 count Aida fabric hand-dyed by Kim


Things have been going fairly well with the stitching too. I have, however, made one small change: the fence color was originally a 'light blue grey'. My guess is that it was the kit maker's attempt to make a "white picket fence" color on white fabric. But since I am doing this project on a blue background, I decided to go with REAL white for my picket fence. As you can see, white works best when stitching white. ;-)

As you might have guessed, I haven't been doing much stitching since going back to work today. Oh well... It will give me something to do for the rest of the month.

In other news: well... let me see...Kim and I had a good holidaze week off. We spent some good quality time with Kim's folks. We took my father out for lunch/dinner for his 'christmas gift'. He also loved the fat santa we gave him full of quarters and dollar bills that he could use for the coffee machines at his work. We got the decorations all put away; although we did have 3 casualties: some of the chicken things we had stashed away didn't make it out of storage in one piece. :-( Kim had a very good birthday yesterday. Did you all go over and wish her a happy birthday yet? Oh, and (Kim don't look!) our car turned over 100,000 miles this morning on the way into work! Yet another milestone -literally!- for our good little Saturn. (If you need a good and reliable car, Saturns are a really good bet.)

Let's see... Anything else? Not really. Although as sort of as an aside: I am planning on doing a charity fund raiser bike ride for the Multiple Sclerosis Society later this year and maybe volunteering for another too. Hard to say for sure yet, but it is in the plans. More on that later, when I have more time to tell tales. And you can ask Kim: I LOVE to talk about stuff that I like. Like Kim... :-X

Okay, I better end this post before I turn into a pumpkin... or some other gourd or melon. ;-p Chat with you all later if not sooner and Happy Stitchy!!!

Comments:
Hi Greg! Welcome back! You picked a beautiful fabric for your red bicycle project! It looks like a big project actually! What size is it (in cm please). May be I should start dyeing my fabric like Kim, so my DH would feel like stitching too? I guess it's a little more complicated...
Suggestion: Could you set up your blog so that we could have your post displayed while commenting, which would help mindless people like me not forget half what they want to say?...
I really enjoyed seeing what happened to this drunken santa finally! It's great! Brings a smile on your face, like the cute Di Paolo (stg like that) figurine you offered Kim! Great choice!
Have a nice stitching WE!
Is it me that I'm having trouble seeing what it's going to be? I can see you stitched a lot, but not how it's going to turn out.
Love your idea for charity!
Your red bike is growing quickly already - great progress ... and great blog! Haven't been reading blogs for a wee while, and just catching up ... after reading Kim's, I thought I'd pop over and say "hi" :)
Post a Comment
<< Home