Saturday, January 14, 2006
The Red Bike Diaries, Episode II:
Stitching in the dirt...
Okay, so the pic at left isn't "The Red Bicycle". But when I took Grape -my recumbent- out for it's first ride of the year this afternoon, and saw this fence... Well, I
just had to take a picture of it. It seemed like a good tie in for this bunch of bloggingness. (More on the ride later.)
Anyway... at right is a progress pic of The Red Bicycle. Things have been a bit (there's an understatement!) busy at
work this week. As a result, I have not been as proliferic with my stitching as I have been in the last couple of weeks. The good side of that is the fact that I am getting things done with my project. Not much,
but some...

I have begun to stitch the 'ground' part of the pattern (hence the 'dirt' in the title) and I have more or less settled into the knowledge that the longest and possibly the most drawn
out part of this project is underway. I am estimating that it will take almost a month -at my current speed of stitching- to finish this part. Of course, I could be wrong. ;-) (It has
happend once or twice, believe me...)

Kim hasn't been feeling very well lately, so she has been able to get a lot done on her projects. You should wander over there and t
ake a look at it. A little bit of 'Hi, how are you?' at her blog might help cheer her up and make her feel better. ;-)



And now, a little more talk about my ride this afternoon.

First off, Kim and I got up kind of late this morning. Stayed up a little too late last night, I am afraid. (Why are all the

good

shows on so late at night?!?) Kim needed to get some fabric to finish her Peter's Cotton Knits project, so once we got up and going we made a run to Jo Anne's for fabric. Fortunately for us, the cold weather that we have been having here has decided to let up a bit. The sunny skies helped to perk up our spirits so we could get our runs done. (See also the blue sky in the pic at left.) The only thing we noticed, was that it was a bit windy. (See also again, the pic at left) Oh well, it would still be a good day for a bike ride.

Okay, we did our runs and I got ready to ride. As I have said, I haven't had Grape out for a while and needed to do some preliminaries before I got started. Again, no big deal. Air up tires, get water bottles ready, make sure all the other things are in their proper places... No problem. Took the bike and soforth outside and got ready to go. Did I mention that it was still a bit chilly out? Well, I will just wear a jacket over my T-shirt and shorts and I will be alright. Again, no problem.
The MoPacEast Trail is -almost literally- right out our back door. (About 3 blocks away.) Once I got heading down the trail, I saw the following things
: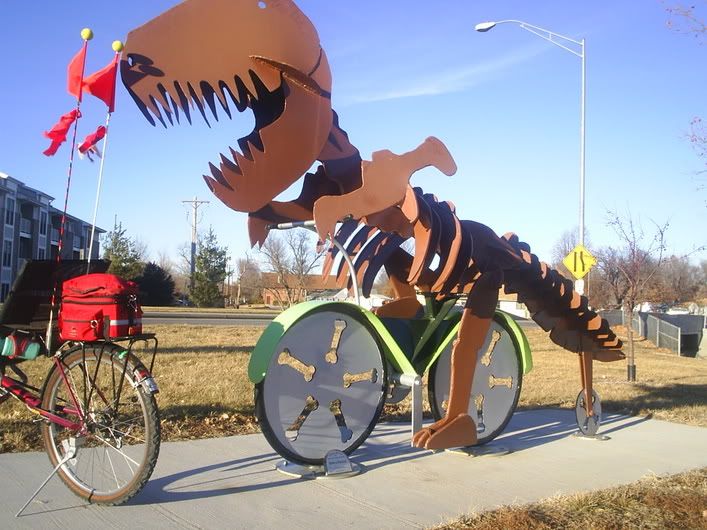 A Dinosaur, a train engine, and then finally the crushed limestone of the trail.

The first pics are 2 of many of the Tour de Lincoln sculptures that were commissioned a couple of years ago. There are more in town, but I was only able to take pictures of these so far. (I plan on posting more pics when I get them...) They are pretty neat, ranging from the 2 above to eyeglasses, to flowers. I think most of them have been taken to the homes of those who helped sponsored them, or they are in private galleries. Not really sure though...

The MoPac East trail heads quite a ways out of town. I personally have only been as far as a little berg known as Walton. Not much bigger than the name is there, but big enough to have a grain storage bin and a nice little trail side bike shop. It is part bike shop, part rest stop along the trail.

From there, I decided to get off of the trail for a bit and headed out onto the road. I had been noticing a rattling noise in my front rack, so I decided to stop at this nice fenced in area -see picture at the beginning of this post- and see what the rattle was all about. Upon closer inspection of the rack, I discovered that I had somehow managed to loose one of the bolts holding on the front rack. Eeek! (Good thing I have lots of spares at home...) Needless to say, that called an end to the ride. Bummer. I was wanting to ride more but... Oh well... So I turned around and not so quietly rode back home. (The rattle didn't get much better until after I was home.) I can say that I managed to get in a grand total of almost 14 miles today. Nothing great by my old standards, but at least I was out and riding.

Of course, now that it is no longer today but rather tomorrow (oh my...) I better sign off. I will be needing to sleep so that I can do some work related stuff tomorrow, I mean today, and I am going to need all my faculties to do it.

And on that note... Happy stitchy, happy riding, and most importantly, thanks for letting me ramble all that stuff out at you!

Sleep well... Or whatever else it is you need to do today... ;-)




Comments:
Hi Greg,
thanks for showing a picture of the red bicycle design! Now I can understand why it's called that way...
As you might know, our country is THE biking country. It's very flat and crowdy and the bike is used almost by everyone. I ride my bike every day and make a 10 km ride twice or three times a week. It's healthy and sometimes wet...
Post a Comment
<< Home