Monday, January 30, 2006
The Red Bike Diaries: Episode IV
Even more dirt under The Red Bicycle...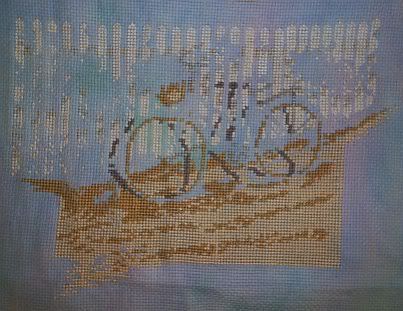 (I think that I am going to need my wheels trued when I am done...)


Welcome back to my blog! (2 posts in one day... cool!)
Okay, above I have the most recent progress pic of The Red Bicycle. I have completed the second color of the 'dirt' on the bottom half of the pattern. As Kim said earlier as I was proofing the preliminary pics, you can really see more and more of the design the further along I get. So far so good, eh? ;-)
The next color will be a darker
gold
. The darker color of the 'dirt' is a blending of a light brown and a light gold, so that may or may not give you an idea as to the color. Can't wait...
Kim made another interesting comment: why do you stitch just one color at a time? Well, I don't always plan to. But it just seems to happen more often than not. In this case, the color that was at the center of the design -I always start a project in the middle- just happened to be the last color on the list. Once I finished that one, I just continued to move up the line of colors until I got to where I am now. Pretty simple and straitforward. That and -unless the pattern makes it too difficult- I like to finish all of the stitches of one color before moving on to the next one. Kind of my way of keeping track of where I am on a project. Maybe a bit strange, but hey it works for me. ;-)
Nothing really to say in regards to biking stuff tonight. As nice as it was this weekend, it was a cold one today. (And I was just feeling lazy too so...) Hard to say when next I will be talking biking stuff. Stay tuned and see what happens when.
Alrightythen! Time to pack it in for today and get this post posted. (I think there is the name of a breakfast cereal in there somewhere...) Chat with you all later and have a good time until the next time!
Comments:
Hello, just realized I hadn't checked your blog in a while so I decided to stop in and see what's up. The Red Bicycle looks like it's coming along good, can't wait to see the finished product. Thanks for the compliment on the bike :) I was wondering what type yours is (a Vision?) I really like the long wheel base bikes with underseat steering, I think one might be in the cards for a possible next bike. Glad to see that the weather is nice for you so you can get out and do some riding, looks beautiful there! Well I should get going, I'll check back in soon..
Post a Comment
<< Home