Wednesday, May 31, 2006
Solitary Catharsis
(Plug "Silent Lucidity" by Queensryche into your i-pod for this one...)
Here I am again, just pounding (well, gently tapping) away at the keyboard to put forth info about my latest bike ride. Yes, I do remember how to ride
Grape!
It's just like... well... riding a bike. ;-)
ANYway... I FINALLY got around to riding on Monday. It was a bit cloudy and windy, but overall a good day to ride. First, I went and took the pic of the
Lance Statue
that I mentioned in my last post. Then I got to work getting out of town, literally...
My plan was to head north out of town towards the town of
Ceresco
. It is a fairly straight shot out of town, once I get out onto the highway. Here is a picture of that highway looking back towards town: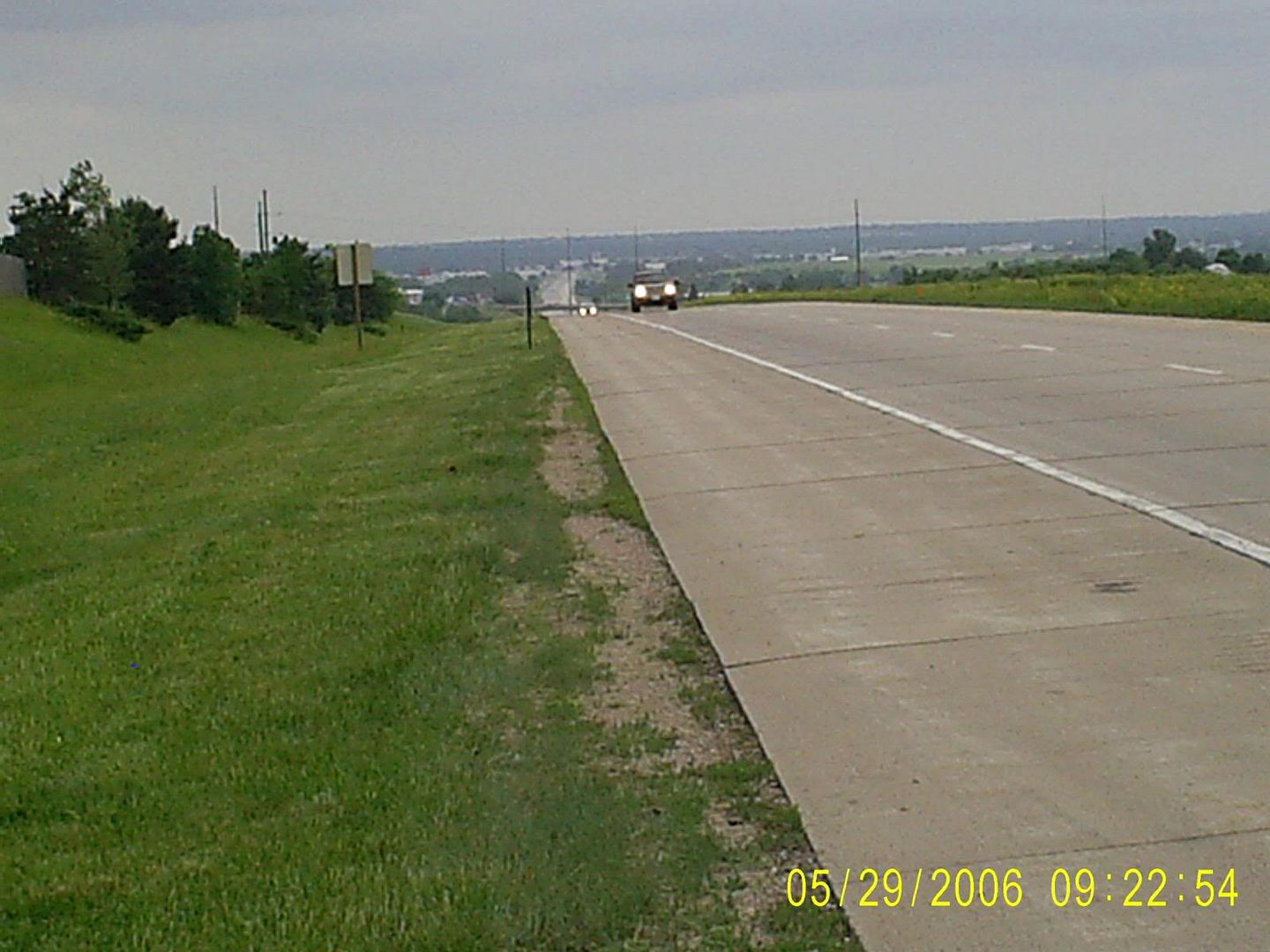 You can sort of see how cloudy it was. Not too bad as to not need sunblock, but cloudy just the same. (FYI: I did end up getting a little red, but that is for later in this post...) And in this next pic, you can see the road heading towards Ceresco:
Okay, so I am still a few miles out from town... But if nothing else, it shows you how open things are out there on The Road To Ceresco. ;-) It is kind of peaceful, in a solitary kind of way. The ride gave me a much needed break from the day to day hectic of things going on around here. You might even say that it gave me time to stop and smell the
daisies
! There were a lot of what I ended up calling 'ditch daisies' along the road. Very pretty, as the link to the pic shows...
Needless to say -sun and excertion of riding up and down and up and down and... hills notwithstanding- it was a pretty good ride. It took me almost 4 hours to do the entire thing. Me being out of shape helped that a bit, but it was still good to get out and ride. I can honestly say, though, that even though I enjoyed the ride I need to listen to Kim a little bit more and not try to do so much all at once. Work into it, you might say. ;-) I'm learning though...
Okay, with that little bit of wordage I will have to sign off. But not without doing the obligatory handing out of postcards that say:
Monday, May 29, 2006
The Road to Paris: Team Photo
Hello again, everybody! I have been really busy doing lots of things including stitching. But not so much photo taking
or bike riding
or blog posting. Today, however I have done a bit of the first two and thought I would work on the last one. So... here goes......

Here is the most recently taken pic of The Road To Paris:


Like I said, I have been doing a LOT of stitching...

I finished stitching the Cedrics last night. All I have left for this one is to have the Cedrics 'sign' their respective names, as well as a bit of back stitching to put a 'title' on the project as well as a little sign to mimic the "Paris 30 km" words on the plaque that this project got its ideas from. Methinks that the boys are looking pretty good. If you look here and here, you can get a closer look at them and judge for yourself... (Personally, I think the "Fool's Gold" floss on Lance's helmet is just P E R F E C T !!)

Oops! I need to sign off now. But first... Here are a couple of pics of my most recent Tour de Lincoln statue: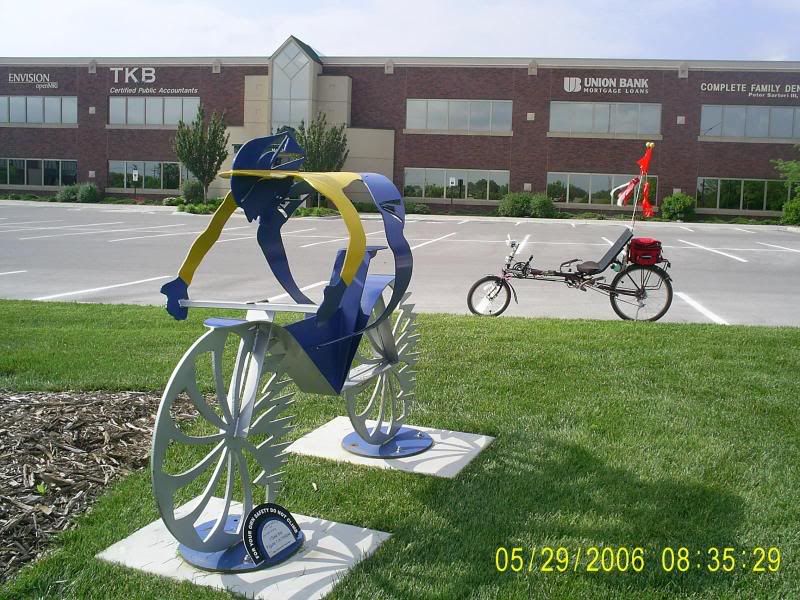 I may not have to say that this one is based on Lance Armstrong. Well, the 2003 version at least... ;-) Back then, he and his Tour de France winning team was riding for the U.S. Postal Service (hence, the stylized eagle motif on his shorts). We just happened to be driving around on Saturday and there it was! Kim couldn't figure out why I wanted to -more or less- do a u turn to go back and see it, but she humored me so I could look at it again. She is such a sweety to put up with my wierdnesses! ;-) Anyway... When I went out for my ride today -post to follow tomorrow?- my first stop was to this new (well, new to me) Shrine To The Greatness of Lance Armstrong! Okay, I just wanted to get a pic of it to show it off to you all. You get the idea...

Okay, I need to leave now. It is later than I wanted it to be and I need to go to work in the morning. (Oh boy, oh joy...) Y'all be safe and sound and stitchy and bikey and all that other good happy type stuff and I will blog at you some more tomorrow!

Friday, May 19, 2006
The Road To Paris: Group Ride
Hello again you... and you... and of course YOU! ;-) You know who You are...

Anyway, time for and update on The Road To Paris:


As you can see, the gang is all here. I finished the last Cedric yesterday over my lunch hour and started on coloring in the jerseys ('biker shirts') soon after. I have decided to go color code image by color code image on each individual Cedric as I work on them. By that I mean that if the image for a color is a

z

, than I am stitching the

z

color on each Cedric before moving onto the next color. Helps break up the monotony of stitching all them big blocks of color. And it will be fun too, considering that the next 2 Cedrics will be made up of different color combinations than the first one. 'Bob' and 'Lance' will be more colorful than 'Cedric' and 'gC'...

As I have said over and over again, things are going pretty fast on this project. Can't wait to see how the other colors will actually look on this fabric...

In other news: Kim and I are going to go see "The Da Vinci Code" tonight. I am hoping that it is better than the pre-reviews make it out to be, but we will just have to wait and see...

Also, I am planning on
-hold on-
going on a bike ride tomorrow!!! Gasp, shock, awe!!! ;-) If it doesn't rain, that is... I am (REALLY!!!) hoping that it doesn't rain. I could use a good long bike ride. A little catharthis would be nice...

And with that... I better close up and go to work. Otherwise, I won't make it back home in time to get to the movie on time tonight... ;-)

Have a happy Friday wherever you are and be safe and stitchy too!

Tuesday, May 16, 2006
The Road To Paris: Prologue and First Stages
(Poster's note: This post is crammed full of informative links...)


Hello again! As promised, I am making a post about my Current Project! So without further delays... here goes...
First off, I am sure you have all followed the link in my last post about what I am going to stitch. No? Well, here is another pic of it so you can be up to speed:
(Sorry about the resolution. I am still trying to get the hang of picture taking and posting...)


Anyway... This is part of the inspiration. My original idea was to make this once. And then I had the idea to do a "multiples in one project" kind of thing. But then... I looked at the wall in our (okay, my) bike room and saw this:
This is a plaque that
Kim
got for me a while back. As some of you may know, I got her hooked on watching the
Tour de France
on the
TV
. The '
Arc
' mentioned on the plaque is the final landmark that the riders see when they make the final ride into Paris. I have this hanging on my wall over the autographed poster of
Lance Armstrong
after his 1999 Tour win. (I had forgotten that he managed to win by almost 8 minutes!)
Needless to say, this moment of insight pretty much crystalized my idea for this project! It seeemed only fitting to do a project to honor Lance's 7 Tour victories. At first, I was going to do a group of about 7 of these Cedrics and mimic -although probably not very well- Lance and his Discovery Team. Well... that soon changed when I was able to find a frame that was almost identical to the 'Arc' one. That frame found, I redecided to do only 4 of them. (The frame is 20 inches wide. The Cedrics are 4 inches wide each. You can do the math...) I would keep 1 of them as Lance, do one as a characature of
Bob Roll
(former mountain bike racer and current Tour commentator), one as myself (more or less), and one of the original Cedric. To that end, I copied the pattern 4 times, taped it together, and then decided on the individual colors for each 'Cedric' character. Below is a pic of the entire set of patterns:
As you can see, these colors should look very good on this fabric. Once it is all done, that is. (FYI: the fabric is 14ct and called 'Relic'. It is an orange/brown/red overdyed piece. Very nice...)
Okay... Pattern? Check. Colors? Check. Fabric? Check. Now, on to the stitching...
I started working on 'The Road To Paris' last friday at work. I want to go on record as saying that I have all kinds and colors of respect for those talented folks who can stitch in hand, without a hoop. Do to a technical error that was all the cat's fault...
It was NOT my fault! -jessie
...I had managed to forget my hoop at home. :-O Uh oh! Let me say that a small photo frame and a couple of rubber bands make a pretty good make-do sittching hoop... ;-) Below are the results of part of what I got done on Friday:
Anyway... I started working on this last Friday at work. Saturday and Sunday -as I mentioned in my last post- Kim and I went down to her mum's and spent the weekend. I had quite a lot of time to stitch. Things are going fairly quickly and I have been able to get the following 2 Cedrics finished by the end of Sunday night:
As I mentioned earlier, these 2 are (from right to left) 'Lance' and 'Bob'. (Aren't they cute?!?) 'Lance' will end up having a 'golden' helmet, a 'yellow' jersey (shirt), and blue shorts; akin to his
Discovery Team
colors on Race Day. 'Bob', however, will have a slightly more colorful outfit: 'Hot rod' (red/orange/yellow) by Weeks Dye Works helmet, a 'Confetti' by Weeks Dye Works jersey (yellow/blue/green/red), and -believe it or not- plain blue shorts. (DMC #995, FYI). 'Cedric' and 'I ' will stay fairly tame. My helmet will be tones of grey (like my actual helmet) and my shorts will be subdued tones of blue. Cedric will remain the same as the original pattern colors. A bit of an homage to the original design, sotospeak... All and all, this project should look pretty darn cute when it is all done. I figure that I should be done -stitching, mounting, framing, and all- way before the end of the month. Maybe sooner, the way things are going! Stay tuned and see how things go...
(Can you tell that it is getting late and I am running out of things to say?)
As a point of Updatedness: I can say that I have almost completed the outline of 'my' Cedric. (Like I have been saying, this thing is going fast...) I am hoping to have 'Cedric' himself outlined by thrusday at the latest, and then I will show another update pic. I am soooo wanting to type in the phrase "Say hello to my little friend(s)!" for the title of that post! If you have seen -or at least, seen something relating to- the movie "Scar Face" with Al Pacino, you will recognize the quote... ;-) lol
Okay... What else? Well, first let me answer
Lili's
comment question from my last post: Yes. Very much so when you compare old pictures of the two of them, or when you get a pic of them in almost the same pose together. Almost freaky to me, sometimes... ;-)
Other than that... Not much to say. The weather here has been playing havoc with Kim's sinuses as welll as mine. Also, for some reason the 'excema' that I got just before our wedding is making a return engagement lately. Don't know the reason for that for sure, but I am sure that Mother Nature has something to do with that too. Oh, and the cat is still a pukey butt.
---hack, hack, hack---
Well, maybe just a little bit...
-jessie


Anyway... All kidding aside, thanks for looking at my blog again and I will see you all and sundry and bunny too! (Lili: Patapon is just simply adorable!) Have a good time of it all and I will see you at the next posting!
Sunday, May 14, 2006
Justaquickpost... Yeah, right...
You might want to get a big cup of your favorite beverage. I may get a little long winded here...
Hello again, all and sundry! Yes, I have survived turning another year younger -hey, you celebrate your brithday your way, I'll celebrate mine my way- and no, I haven't forgotten about blogging. I guess I have just not been in a bloggy frame of mind for a while... ;-)
Okay, updates... Let's see. Well, first off -as I said above- I celebrated another year. Here is one of the things that I got:
The weekend of my b-day,
Kim
's folks came up and we went to various and sundry places around town that they wanted to go shopping at. (And no, I won't mention the fact that we went to
Hobby Lobby
...) While we we out spending money, Kim's mom got me the above bag (or case, if you prefer). It was designed to be a project bag for scrap bookers or quilters or the like. I am -obviously- going to use it to lug around my cross stitch stuff; some of which you can see here. It comes with a handle as well as a carry strap. My other bag -which is a fancy note book/binder- doesn't have a handle or carry strap and therefore needs to be carried in my back pack. (Carry straps are a good thing...) I am still getting used to it, but this is a pretty slick item and I am liking it a bunch.
Also during that week, Kim and I went on our Road Trip (Capital R, capital T? Darn tootin'!) to Des Moines. On the way there, we stopped off in the little town of
Walnut, Ia
to restock our munchies and stretch our legs. Aside from this
rather large bicycle
, Walnut's claim to fame is that it is an 'Antique City'. This means, that if you want to buy some antique stuff this is touted to be the place to go and get it. Kim and I weren't overly impressed, as it seemed like the stuff was a little pricey. But then again, the whole town is made up of antique stores and we only looked at a couple of them. If it is something you might like, it might be the place for you...
Back on the road again and then in to Des Moines we arrived. Once there we -finally!- found the
store
we were looking for and had a hey day with all the stuff that they have. If you click on the link and look at the pic on their page, you will see what I mean... Needless to say, we spent a lot of time and money while we were there. In fact, Kim got me my
Next Big Project
. Remember how I said that I would have to go to Teresa Wentzler for my next big project? Well, let's just say that this one is pretty close. At least to me it is... ;-) I have decided that I am not going to be able to stitch it on the model stitched size fabric of 32 ct. My eyes don't like it when I ask them to look at stuff that small. However, I am going to do it on a similiarly colored 16 ct fabric that Kim hand dyed. It is a little lighter than the model stitch, but I think that the fact that it is going to be on something else that Kim stitched will make it extra special. I am going to be doing that after my
Current Big Project
because if I don't, Kim will probably do me some serious bodily damage... Or do Evangeline herself. ;-) I am excited to do this one and can't wait to get on to it. Should be fun...
While in Des Moines, we also took a tour of the town and found some bike shops to look at. That was... interesting... as they were all almost literally located at all points on the compass from where we were staying. Fortunately, we were able to find a
coffee shop
to help refuel while we were driving all around.
Des Moines
is a nice city and -I must be honest- reminded us both of
here at home as well as my own home town
too.
What else... Well, we had dinner at the nice little 'rustic' looking restaurant near where we were staying. Oh, and I took this pic of a cute sign that they had on the wall:
Ya just gotta love that type of sage wisdom, eh? ;-)
Okay, enough of Des Moines... The next day we got in the car and headed back home. Along the way, I decided that we just had to stop and look at this: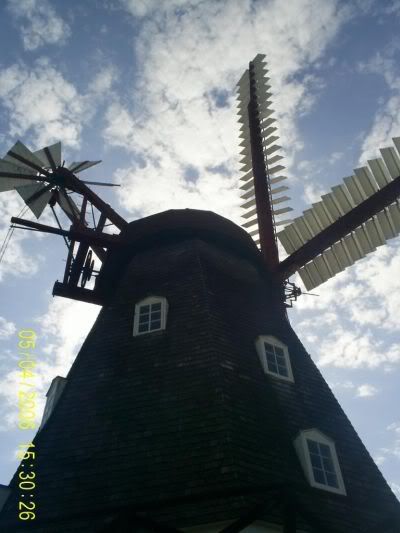 (FYI: I am of Danish decent...) The above pic is of the
Danish Windmill in Elk Horn, Ia
. I will let the web site do the talking so that I don't mess any of the information up. Suffice it to say, that I wanted to see it again -I have been here on a couple of other occassions- and since we were 'in the neighborhood'... Well, you get the idea. It was nice to look at it again, but for some reason I wasn't interested in looking overly close at it. Methinks that I was just interested in looking at it for old timer's -er, old time's- sake. Oh, and I wanted to get a suvenier from there too. (Kim got a pic of it. I am sure that she will show it on
her blog
before long...) Although I must say, I did enjoy getting back to my roots a little bit while we were there...
...lol...
Okay, enough of that... ;-) So after pillaging, er, visiting the windmill we came home and spent the next little bit getting back used to local life. Oh boy, oh joy. Back to reality I suppose...
And this weekend -Mother's Day was today, you know- we went down and spent some time with Kim's mum. Yesterday we went to a couple of places in St. Joe and then went back to their house. While there, I presented the Turkey Project to Kim's mum:
She really liked it and -once I got it hung up on her wall, above a pic that Kim had done for her- it actually looked pretty good. I am just glad that it was well received, because I wasn't going to take it back. (Just kidding, Kim Mum!) Also while I was there, I made some very good progress on my
Current Big Project
.
All right, all right! I realize that the link up there isn't anything really biggie wow to look at. But it kind of gives you an -albiet vague- idea as to what I have been up to this weekend. You will just have to wait for my next post for the specifics. It will be the first in my next series of project posts and it will be titled "The Road To Paris". Trust me, it will all make sense after the next post... ;-)
Okay, since I am running out of words -and time- I better sign off for now with the following bits of sage wisdom from billboards that I have seen around and taken pictures of:
One relating to Albert Einstein..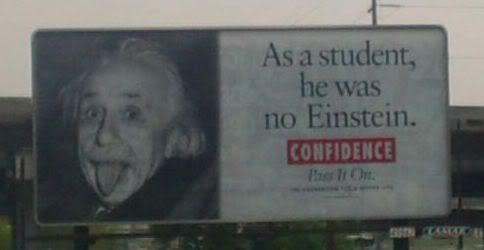 ...and one relating to Kermit the Frog.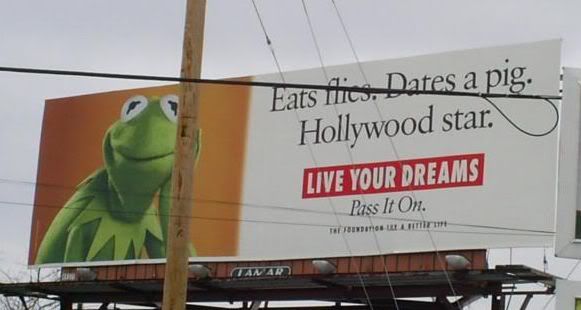 There are a bunch of these things around. I like the positive messages that they put out there for folks to see. I am hoping to find more of these and post them when I can. But for now, go check out the
home site
of the folks putting them up. Methinks you will like what you see...
And with that bit of happy thinky, I wish you all a safe and happy day, night, week, month, year, etc. and I will blog at you next time...