Sunday, May 14, 2006
Justaquickpost... Yeah, right...
You might want to get a big cup of your favorite beverage. I may get a little long winded here...
Hello again, all and sundry! Yes, I have survived turning another year younger -hey, you celebrate your brithday your way, I'll celebrate mine my way- and no, I haven't forgotten about blogging. I guess I have just not been in a bloggy frame of mind for a while... ;-)
Okay, updates... Let's see. Well, first off -as I said above- I celebrated another year. Here is one of the things that I got:
The weekend of my b-day,
Kim
's folks came up and we went to various and sundry places around town that they wanted to go shopping at. (And no, I won't mention the fact that we went to
Hobby Lobby
...) While we we out spending money, Kim's mom got me the above bag (or case, if you prefer). It was designed to be a project bag for scrap bookers or quilters or the like. I am -obviously- going to use it to lug around my cross stitch stuff; some of which you can see here. It comes with a handle as well as a carry strap. My other bag -which is a fancy note book/binder- doesn't have a handle or carry strap and therefore needs to be carried in my back pack. (Carry straps are a good thing...) I am still getting used to it, but this is a pretty slick item and I am liking it a bunch.
Also during that week, Kim and I went on our Road Trip (Capital R, capital T? Darn tootin'!) to Des Moines. On the way there, we stopped off in the little town of
Walnut, Ia
to restock our munchies and stretch our legs. Aside from this
rather large bicycle
, Walnut's claim to fame is that it is an 'Antique City'. This means, that if you want to buy some antique stuff this is touted to be the place to go and get it. Kim and I weren't overly impressed, as it seemed like the stuff was a little pricey. But then again, the whole town is made up of antique stores and we only looked at a couple of them. If it is something you might like, it might be the place for you...
Back on the road again and then in to Des Moines we arrived. Once there we -finally!- found the
store
we were looking for and had a hey day with all the stuff that they have. If you click on the link and look at the pic on their page, you will see what I mean... Needless to say, we spent a lot of time and money while we were there. In fact, Kim got me my
Next Big Project
. Remember how I said that I would have to go to Teresa Wentzler for my next big project? Well, let's just say that this one is pretty close. At least to me it is... ;-) I have decided that I am not going to be able to stitch it on the model stitched size fabric of 32 ct. My eyes don't like it when I ask them to look at stuff that small. However, I am going to do it on a similiarly colored 16 ct fabric that Kim hand dyed. It is a little lighter than the model stitch, but I think that the fact that it is going to be on something else that Kim stitched will make it extra special. I am going to be doing that after my
Current Big Project
because if I don't, Kim will probably do me some serious bodily damage... Or do Evangeline herself. ;-) I am excited to do this one and can't wait to get on to it. Should be fun...
While in Des Moines, we also took a tour of the town and found some bike shops to look at. That was... interesting... as they were all almost literally located at all points on the compass from where we were staying. Fortunately, we were able to find a
coffee shop
to help refuel while we were driving all around.
Des Moines
is a nice city and -I must be honest- reminded us both of
here at home as well as my own home town
too.
What else... Well, we had dinner at the nice little 'rustic' looking restaurant near where we were staying. Oh, and I took this pic of a cute sign that they had on the wall:
Ya just gotta love that type of sage wisdom, eh? ;-)
Okay, enough of Des Moines... The next day we got in the car and headed back home. Along the way, I decided that we just had to stop and look at this: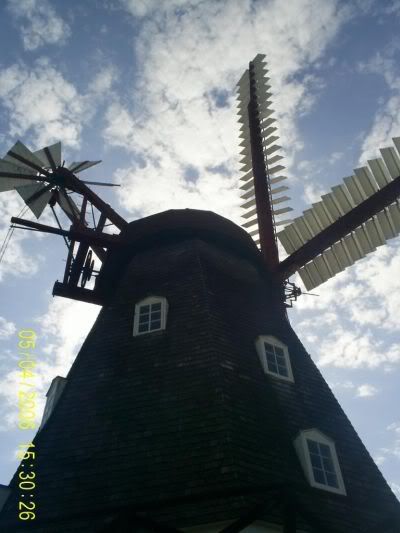 (FYI: I am of Danish decent...) The above pic is of the
Danish Windmill in Elk Horn, Ia
. I will let the web site do the talking so that I don't mess any of the information up. Suffice it to say, that I wanted to see it again -I have been here on a couple of other occassions- and since we were 'in the neighborhood'... Well, you get the idea. It was nice to look at it again, but for some reason I wasn't interested in looking overly close at it. Methinks that I was just interested in looking at it for old timer's -er, old time's- sake. Oh, and I wanted to get a suvenier from there too. (Kim got a pic of it. I am sure that she will show it on
her blog
before long...) Although I must say, I did enjoy getting back to my roots a little bit while we were there...
...lol...
Okay, enough of that... ;-) So after pillaging, er, visiting the windmill we came home and spent the next little bit getting back used to local life. Oh boy, oh joy. Back to reality I suppose...
And this weekend -Mother's Day was today, you know- we went down and spent some time with Kim's mum. Yesterday we went to a couple of places in St. Joe and then went back to their house. While there, I presented the Turkey Project to Kim's mum:
She really liked it and -once I got it hung up on her wall, above a pic that Kim had done for her- it actually looked pretty good. I am just glad that it was well received, because I wasn't going to take it back. (Just kidding, Kim Mum!) Also while I was there, I made some very good progress on my
Current Big Project
.
All right, all right! I realize that the link up there isn't anything really biggie wow to look at. But it kind of gives you an -albiet vague- idea as to what I have been up to this weekend. You will just have to wait for my next post for the specifics. It will be the first in my next series of project posts and it will be titled "The Road To Paris". Trust me, it will all make sense after the next post... ;-)
Okay, since I am running out of words -and time- I better sign off for now with the following bits of sage wisdom from billboards that I have seen around and taken pictures of:
One relating to Albert Einstein..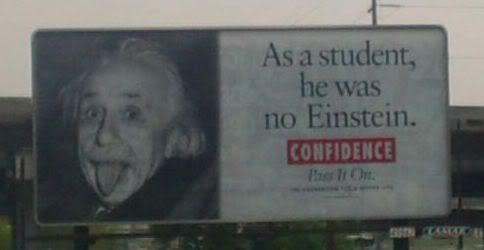 ...and one relating to Kermit the Frog.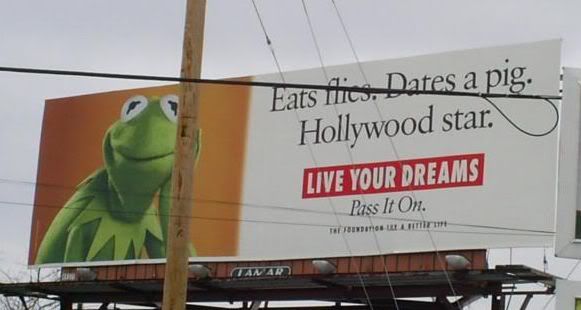 There are a bunch of these things around. I like the positive messages that they put out there for folks to see. I am hoping to find more of these and post them when I can. But for now, go check out the
home site
of the folks putting them up. Methinks you will like what you see...
And with that bit of happy thinky, I wish you all a safe and happy day, night, week, month, year, etc. and I will blog at you next time...
Comments:
All right, you don't post often, but when you do, it's a firelight show!
I just love "sharing" all this! The trip, the stitching, and all... I must confess that I have had a close look at Kim's mum and I have a question: does Kim look like her? (well younger of course). Be careful what you answer, as I hate being told I look like my mom, but I do...lol! No: weeping!
Looking forward to understanding what Paris has to do with that bicycle stitching.
Take care!
Post a Comment
<< Home