Wednesday, April 25, 2007
Evangeline's Journey: Episode 10
Day 206: The Sun Has Come Out!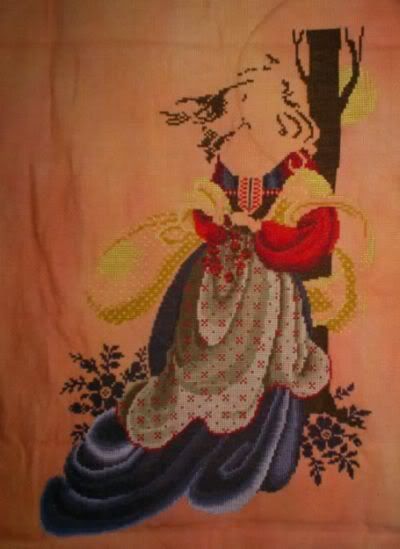 Although you would never guess it from looking at the weather around here!
(

It has been kind of dreary for the last couple of days...

)

Not sure if you can see or not, but the sun (as I call it) behind the tree and some more of Evangeline's shawl is starting to take shape. It is kind of a shame that the color of yellow that I was working with is so close to the fabric color, as I would love to be able to show you the detail of the accents on the shawl. (You can see them if you look really close...) Okay, they may not be all that much to look at but the little buggers took forever to stitch! I think the phrase is 'confetti stitches'... lol Anyway... Things are going well with Evangeline and -I dare say- progressing very well.

In other news...

Everyone will be happy to know that Kim has

not

fallen off the face of the Earth. Without going into too many details, suffice it to say that she will be going on a Business Trip in a couple of weeks and she has been trying to get everything ready and set so she can go. ;-) It is going to be a lonely week :-( but I am sure Jessie and I will be fine.

But before that, she and I will be going on a week of vacationing! YIPPIEE!!! I know that we both have been needing some down time, and this will be a good time for it. We will be on a whirl-wind tour of Stevens Point, Wisconson (well, it might be windy then...) and then swing through Des Moines, Iowa on our way back home. It should be fun and interesting and all that good stuff too.


Oh, and I turn 38 in a week. But don't tell anybody... ;-p


Okay, time to go to work. I hope you all have a wonderful day and no frogging!
Thursday, April 19, 2007
Evangeline's Journey: Epoisode 9
Day 200: So close, and yet so far...


(Or: Why I have been in a 'blue funk' for a while now...)


Good morning, everyone! I hope all of your days are starting out good so far. ;-)

As you can see, I have made some fairly good progress on Evangeline since last we spoke. I can't say it enough: the more I finish, the better this project looks. ;-) Anyway... as you can see in the pic, there are about 4 shades of blue in Evangeline's dress but to be honest, it took seeing each part as it was completed to get the full effect of the shading. Needless to say, it all worked out good in the end. (But I said that already, didn't I?!? lol)

As of this point, I can officially say that Evangeline is half finished. (The bottom half, obviously...) Since taking this pic, I have started working on the rest of her 'shawl'. You can't quite see it yet, but that is the flowing looking stuff to either side of her. It should be an experience, since the part that I am currently stitching is the accents (or 'sparkly bits') in the shawl. In other words, they are like the red accents in the dress and spaced just as far apart. Combine that with the fact that I almost always have problems with my yellow flosses loosing their fluff (for lack of a better word) and getting extra tangled... Well, I am sure you get the idea. I will say that it should look extra good once it is done though. Watching the subtleties of the colors coming out as this project progresses has been an extra special treat. ;-)


Well, it is getting close to time to leave (and my 'carpal tunnel syndrome' is starting to kick in...) so I better make some closing remarks:

To Greg of Ohio: I peaked at your Wish List. :-O Did you ever get you hands on the "Frederick the Literate" project? I was wondering because we have it in our stash pile (got it from Kim's mum and haven't done anything with it yet). Let me know and I will see if we can gift it your way or something... ;-)

To Lili in regards to the Q-Snaps mentioned last post: well... I could do the leaning thing with the 'Snaps, but since I cart my projects around with me a lot it wouldn't be practical. Maybe for the smaller projects, but then my trusty 4" hoop would get all lonely and that wouldn't be fun...

To everyone else: have a good day, happy stitches, and sunny skies too!
Monday, April 02, 2007
Evangeline's Journey: Episode 8
Day 183: Another Month, Another Post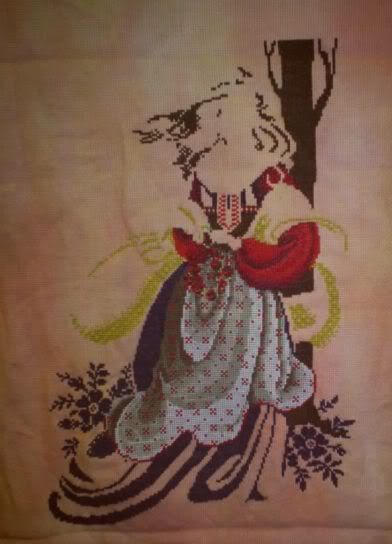 Hello again and welcome back! As you can see, I have been busy since my last post. I had
another pic
that I was going to put up here, but by the time I got around to posting the post I had already finished more stitches. And crossed another color off of the list, too!
Anyway, I managed to get past the tree frogging episode. And since some of the hair color was the same as the tree color, I was able to get an 'outline' of the face done as well. The I moved on to planting the flowers. (Pretty, aren't they?) Then I went back to the hem of the dress and got a good bit done there too.
By this point, I thought that it might be a good idea to start working wiht the entire fabric at once, instead of just the 4" circle of my hoop. To that end, I went out and got some Q Snaps and put the project into it. As you can see
here
, it fit pretty good too. However... (and I really should have listened to
Kim
on this one) it ended up being rather top heavy and difficult to work with. Oh well, mark another one up to experience... ;-) All in all though things are turning out pretty good. Hard to believe that I have been working on this thing for 6 monthes already! One thing I can say for sure though, is that it is amazing to me how much easier it is to see my progress on a project when I take a picture of it! ;-)
Okay, now for a cute pic...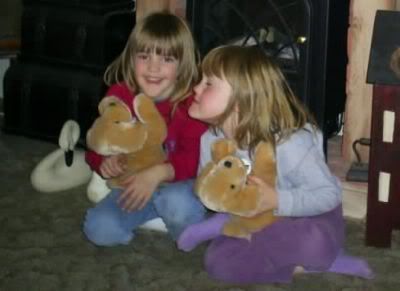 This one is of my nieces - in - law (I sure hope that is the right way to word that) with the stuffed mascots from where I
work
. As you can see, the girls loved them!
And speaking of work, I better shut down and head out. Happy Stitchy everyone and I will chat with you all later if not sooner!
Update: In case you had tryed to look at my blog earlier and couldn't get any of the links to cooperate, well... Jessie managed to get it straightened out for me. Thanks Jessie!