Wednesday, April 25, 2007
Evangeline's Journey: Episode 10
Day 206: The Sun Has Come Out!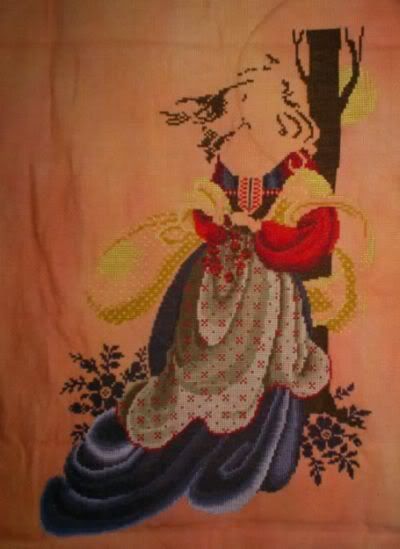 Although you would never guess it from looking at the weather around here!
(

It has been kind of dreary for the last couple of days...

)

Not sure if you can see or not, but the sun (as I call it) behind the tree and some more of Evangeline's shawl is starting to take shape. It is kind of a shame that the color of yellow that I was working with is so close to the fabric color, as I would love to be able to show you the detail of the accents on the shawl. (You can see them if you look really close...) Okay, they may not be all that much to look at but the little buggers took forever to stitch! I think the phrase is 'confetti stitches'... lol Anyway... Things are going well with Evangeline and -I dare say- progressing very well.

In other news...

Everyone will be happy to know that Kim has

not

fallen off the face of the Earth. Without going into too many details, suffice it to say that she will be going on a Business Trip in a couple of weeks and she has been trying to get everything ready and set so she can go. ;-) It is going to be a lonely week :-( but I am sure Jessie and I will be fine.

But before that, she and I will be going on a week of vacationing! YIPPIEE!!! I know that we both have been needing some down time, and this will be a good time for it. We will be on a whirl-wind tour of Stevens Point, Wisconson (well, it might be windy then...) and then swing through Des Moines, Iowa on our way back home. It should be fun and interesting and all that good stuff too.


Oh, and I turn 38 in a week. But don't tell anybody... ;-p


Okay, time to go to work. I hope you all have a wonderful day and no frogging!
Comments:
You are coming right along on evangaline! happy early birthday and I hope you and Kim have a great vacation too!
Post a Comment
<< Home