Wednesday, July 26, 2006
Wolf, Deer, and Magnets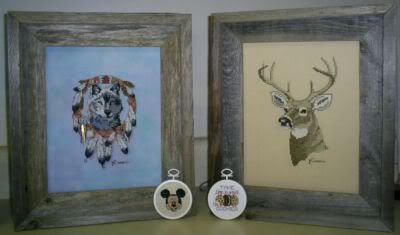 Oh my!
Well, here I am again, after all this time. ;-) Trust me, if it weren't for
the Tour de France,
I probably would have posted sooner. However,
Floyd Landis
is now the new King of the Tour de France and life as we know it has returned to normal. (Whatever that is...)
Anyway... The above pic is of the last 4 finishes that I have finished:
The first, is of the
Native Wolf
that I have been working on. It feels REALLY GOOD to finally have this thing finished... It is in a barn board frame that we got on discount at Hobby Lobby. I have decided to put this into a charity auction for work. I will let you all know how much it gets once the auction is all over...
The next (small) pic is of the
Mickey Mouse fridge magnet
that I made for the nice gentleman who makes copies for me at work. He is on vacation this week, so you will have to wait for a 'presentation pic' on this one. (If he lets me click him, that is...
The other (small) pic if of the inexpensive
Cookies
project that I just finished. Methinks that I may keep this one for me, but I don't know just yet...
The 4th -and final- pic is of the
Deer
that I did for
Tom
at work. As you can see from the link pic, he REALLY liked it... ;-) I am glad, because he is a really nice guy; one of the nicest folks I have worked with in quite some time. (He just happens to like deer and hunting too; so that helps out a bit too...)
Well, that is the end of this post. I would like that say that I have more to say, but on this topic I don't. (I probably do, but I have another post that I want to make so...) I appreciate all of you nice folks out there who have decided that my blog is worth waiting for and have come back to take a look at the latest. Don't fret, there is more coming sooner than you think... ;-) ;-) ;-)
And on that note, chat with you all as soon as I get the next post put together!
Comments:
Tom looks as happy as I was when I received your Santa pillow! You'll never get a pic, but you get the idea!
I love the small cookie project, very wise saying!
It's always a treat to read a new post on your blog: well worth the checking!
Hugs!
PS: After many discussions with DH, I finally put your pillow with the Xmas stuff two weeks ago. It has been exposed to every visitor for quite some time as you see! I had the most funny comments about it! (wink!)
Post a Comment
<< Home