Sunday, June 25, 2006
Back from The Land of Blahs
Jessi looking out at the rest of the world...


Hello everybody! I would have posted sooner but... well... I have been having a nasty case of the "blahs" most of the month. Not sure what has been causing it, but I think I am getting over it now. Time will tell...

Okay, first things first: "The Road to Paris" is finished! Has been for about a month, but we have already discussed that. ;-) So... Here are some pics to show you what things look like now that I am done...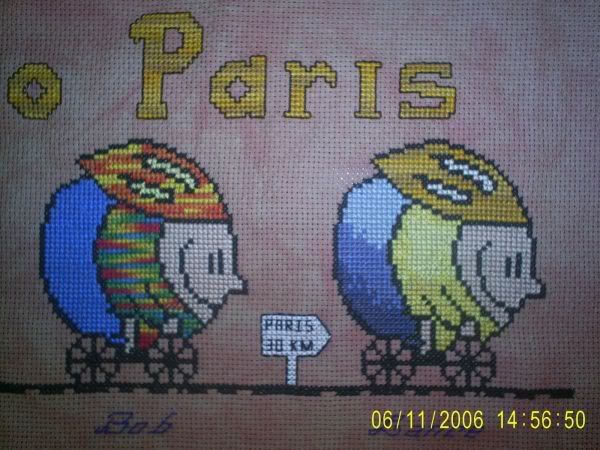 Okay, above are the 2 sides of the completed project. (I am surprised that I was able to get the pics to cooperate...) As you can see, it turned out pretty good. The 'signatures' under each rider and the little road sign are cute little touches. I hate to say it, but I think that the title was one of the hardest parts of this project. Let's just say that -
like Lance and the Tour de France
- 7th time's the charm. ;-) And below, you can see what it looks like along with the Arc de Triomphe plaque that inspired the whole thing...
Since I have been suffering the blahs, I haven't yet hung these both up on the wall. But I think that once everything is up and in place, they should all look pretty good.
As to what I am working on now, well it is a UFO (I think that is the stitching term) that I started... well, quite a while ago. It is the "Native Wolf" kit from
Dimensions
' Creative Accents collection. (The 'site is down now, else I would get you a picture...) I decided to do it on a piece of
Kim's
hand dyed blue fabric. This is going to be another gift project for one of the folks at work. Now that I am back on it, it is going fairly quickly. I hope it goes over well...
Once this one is done, I have a couple of othergift projects that I am looking to be doing as well. One will be
an inexpensive Mickey Mouse project
from
Janlynn
. I am planning on making it into a refrigerator magnet. It will probably take me a couple of days at the most to finish. The other will be a deer project that is from the same book as the
turkey project
I did for Kim's mom. It will probably take a little more than a couple of days to complete, but once it is done and in the frame that I picked out for it, it should be pretty spiffy once it is done. Beyond that... Well, I have plenty of stash to work off of...
In regards to the
Lavender and Lace "Evangeline"
well... I've gotten a copy of the pattern made! And it looks like this: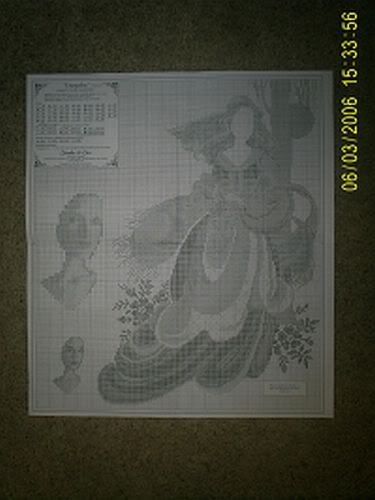 Kinko's
is a wonderful place, let me tell ya! The pattern for this project is almost 24 inches to a side. That is the beauty of Kinko's: they are able to make
B I G
copies. As to the rest of it, I now have all the bits and pieces to get started. I just have to get to that point is all. Be patient with me. It will happen... I am kind of hesitant to be getting started on this one, (Big Project Nerves, most likely) but I am sure that once the first few stitches are on the fabric the rest will go just swimmingly! (Crosses fingers and toes and eyes and...)
Oh, and speaking of swimmingly, Kim and I now have a pass card to the pool at our apartment. It is nice to have access to the pool. It is rather calming, when things aren't too crowded. Granted, we don't actually
swim
at the pool -that would require the knowledge of
how
to swim- but we really enjoy the whole 'lazing around the pool' thing. And it is a nice way to relax too. That may explain how I was able to break down my blahs... Hard to say for sure.
What else...? Well, the weather is staying fairly well. Work is stressful but consistent. (Consistently stressful?!? Just kidding... lol) Stitching is going along well. Slow, but well. Kim and I went for a ride today. That was nice. We both got a good work-out and Kim surprised herself by going further than she originally thought she would. I hate to say it, but I was more worn out than she was when we got home. (Shows how much better shape she is in than I am... lol)
Well, I just ran out of words. Well, more or less... I have one last pic though. This one goes out to
FLYBYU
:
The other day the weather was nice but overcast in the morning. I had taken a quick look out the window and saw that the clouds were in a nifty formation behind the apartments across the creek. The above picture is an example of how they looked. I thought this would be a good one to post. If you haven't looked at FLYBYU's blog, I would suggest you do. If for no other reason as to look at some of the -imho- best scenic photos you can ever hope to look at. (But that is just my opinion...)
Alrightythen! Methinks that I have bolgged enough to last a little while. Hopefully not as little as the last time, but you get the idea.
And with that, I wish you all a good night, good stitching, a good commute to and from work tomorrow (we can all use that...), and an all around good time.
Keep smiling!
Comments:
Hey Greg! So so nice to see you back. What does blah mean? Has it something to do with depressed and ranting or am I all wrong?
Your bikers are just great! Couldn't see the wolf either, love Mickey though ranting Donald has always been my favourite of all... And I would also be both tempted at starting Evangeline, and a little nervous too...
I'll have a look at flubyu now.
Take care!
Post a Comment
<< Home