Wednesday, April 19, 2006
The Red Bike Diaries: Epilogue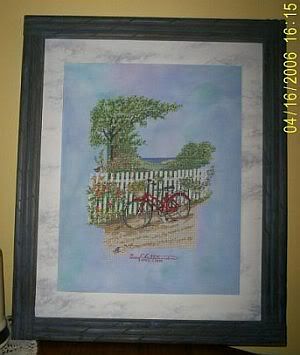 Here it is! The Final Finished Picture of The Red Bicycle!


As I may have mentioned in previous posts, the fabric was hand dyed by Kim. The 'mat' around the project is a piece of paper that I got from the Printing Department at work. The frame is something that we picked up for... thinking... something or the other that Kim was doing at the time. She decided that she didn't like it after all. (If I remember right, it was on sale so... ) The mat helped tie it all together because it has a cloud-like quality to the accents on it. Also, the 'clouds' are about the same color as the frame. Worked out pretty good, methinks...
I hope that the images do this thing justice.
Believe me, everybody who has seen it has been awestruck by it. (My favorite comment is usually "You did that?!? Wow!"... lol)
When I took this to work to show it off
, Kim told me that I WAS NOT to let anyone try to buy it from me!
AT ALL!!! ;-) My response was something to the effect of "...depends on how many thousands of dollars they offer me..." lol I was just kidding, of course. Ain't NO way I am letting this one go to someone other than me! ;-)

In other news: The OTHER THING that everyone has been waiting for! ;-) Following are pics of my next (current at this point) project...

This first pic is of of the booklet of patterns that Kim's mom had. She -Kim's mom- wanted me to stitch her the turkey pattern. (She figured that it would be easier for me than the covered bridge pattern that she originally wanted me to stitch for her.) In exchange for agreeing to stitch this for her, she bought a tool for cutting round and oval mats. That will be a nice thing to have, once I get a project (this one, maybe?) which calls for a round or oval mat...

Okay, this next pic is slightly out dated. I have been working on this project for about a week, but you will hopefully get the idea of what it will look like once it is all done: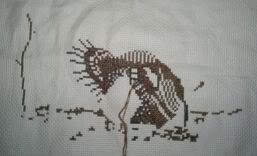 As you can see, I have roughly half of the turkey stitched in as well as part of the tree behind him and some of the grass / ground below him. I hate to say it, but I am getting flash-backs of the eagle charity project I did a while back. (Yes, folks. There is a LOT of brown in this one...) Kim just took a look at this while I am posting, and she says that her mom is really going to like it when it is done. I may have to hold her to that... lol I am sure that Kim Mom will really like it once it is done. And besides; we are making her pick out the frame so it should be pretty much perfect, methinks... ;-)

Oh the treachery of Stash! Looking at my back-projects reminded me of the Mosey n Me "Frank" that I did. Nostalgic and nice, yes. But it reminded me that I have a Hawaii Shirt frame that I want to make another Frank for! And of course, there is the Green Man that I mentioned in my last post... AND there is the "Cedric the Cyclist" by Peter Underhill pattern that Kim recently got for me (Sorry, no pic at this time. Cute though.)... NOT TO MENTION ALL THE OTHER PATTERNS THAT WE HAVE..... Aarrgghhh!!! My head is spinning just typing about all of our stuff! Of course, this all brings up the Dani the Dragon "My Stash Is Full of Treasures" pattern that I have ALSO been wanting to do... As Winnie the Pook might say: "Oh bother!" ;-)

But really... (Catches breath...) That is fine because now I will have all sorts of things to keep me busy if/when they come to take me to the looney bin... (Maybe in a couple of weeks. Maybe sooner...)

Okay, I better finalize this post so that I can get in a couple hours of sleep tonight. (Kim is already in there snoring... lol jk) Chat with you all next time and happy stitchy!!!
Comments:
If they decide to take you to the looney bin, can I get an email first so I know where you are. ;) LOL
The final framed result is absolutely perfect. You did think of everything -beforehand? From Kim's fabric to the background paper to the frame. Wow! Oh, and the stitching too! lol
I also think you have loads of wonderful stash to choose from! That Frank project would be a nice coloured change after the turkey! Although that Dragon is too cute too... Well, your choice! It's a chance I don't have all those, because they would all be wips! lol!
Enjoy your week end!
Your Red Bicycle is absolutely amazing. Wow. Everything comes together perfectly for the finished project.
Post a Comment
<< Home