Sunday, December 11, 2005
The Red Bike Diaries: Prologue
LONG, LONG AGO
IN A GALAXY FAR, FAR AWAY ...



(...well, it wasn't that long ago
and it was actually in the stash basket...)


Okay, so I am not George Lucas. But I really admire the way he can stitch together a tapestry of characters, places, and events into something like his Star Wars saga. And the fact that he has been working on it for nearly 30 years, is a true testament to perserverence!



So what does that have to do with red bikes, diaries, and stitching? Not much, really. But it seemed like a good transition from the Star Wars opening credits idea I had for the beginning of this post to the beginning of my chatting about My Next Big Project...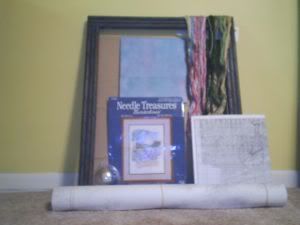 T
hese are the bits and pieces that I am going to use to stitch and finish a project that Kim had originally started a little over 2 years ago: "The Red Bicycle" by Borderlines. It was something that I had talked her into getting and stitching for me -I hadn't started stitching for myself yet- but it ended up not being her type of project. (Too much light color onto light color stuff...)


I plan on using the floss that originally came with the project. (Saves me the trouble of deciding on the colors myself...) However, I have decided to toss the original fabric in order to stitch this on some of Kim's hand dyed frabric. It is blue with hints of pink and green hiding in it. I think it is perfect for the idealic setting of the
Comments:
No, Greg! According to what I read on blogs, I don't think many of us decide how to finish the project before even starting!
For me, it usually takes shape while stitching, sometimes, never: my drawers are filling up with fully stitched unfinished projects...
Question: will you have enough walls for the couple's projects, or use a rotation system? It's a chance Kim can sew very well too! Do you intend to learn this or leave it to Kim?
Take care!
Post a Comment
<< Home